Din brystmatch: Å finne den perfekte passformen for din brystforstørrelsesreise
Din brystmatch: Å finne den perfekte passformen for din brystforstørrelsesreise
More often than not, we find ourselves obsessing over the perfect fit with our jeans, our bras, and why not, even with our romantic partners. Det er en følelse av lettelse og trøst ved å føle at vi har funnet noe som matcher oss. 
Det er ikke annerledes når det gjelder brystforstørrelse. Kvinner stiller stadig spørsmål ved om de har valgt riktig merke, implantatstørrelse og til og med riktig klinikk for inngrepet, og med god grunn. Når vi tar en stor beslutning som denne, vil vi vite at den er riktig. Dette er grunnen til at det er ekstremt viktig at vi gjør oss kjent med alle alternativene vi har, og å huske at det å finne en perfekt passform for alle disse tingene er mer verdifullt enn å ta raske beslutninger.
For Motiva®-jenta Claudia var det ikke en umiddelbar ting å finne det som passet henne. Etter mye etterforskning og et par konsultasjoner fant hun en kirurg hun var komfortabel med, som kunne utføre en prosedyre med de perfekte implantatene for å oppnå de resultatene hun lette etter. Historien hennes viser hvor viktig det er å ta seg tid til å etterforske og å finne en riktig match for hvert steg på veien.
"
Jeg har alltid likt kroppen min, men det var alltid noe som gjorde meg usikker på meg selv, og i mine tidlige tenår kunne jeg ikke virkelig forstå hvorfor jeg følte det slik med meg selv. Når jeg vokste opp, begynte jeg å merke at brystene mine var veldig forskjellige fra de andre jentene, fra mamma og de andre kvinnene i familien. Jeg trodde de hadde en merkelig form, men jeg kunne ikke forstå hvorfor.
Når jeg var rundt 18 år, innså jeg at det var noe mer enn en merkelig form, brystene mine var virkelig asymmetriske, brystvortene var svullene og de utviklet seg ikke så mye. Så jeg begynte å undersøke og fant ut at jeg hadde det KNOLLETE BRYSTER.
Størrelse var ikke noe problem for meg siden jeg er ganske liten, men på grunn av formen passet jeg ikke ordentlig i bikini, bh eller topp. Så jeg konfronterte familien min og ba om å få en konsultasjon.
Den første konsultasjonen gikk ikke som forventet, legen ønsket å gjøre mye kutt som betydde mye arr, og implantatet han viste meg var lite, hardt og han gjorde ikke noe godt inntrykk på meg totalt sett.
Etter mange måneder med etterforskning fant jeg endelig Dr. Marzia Moio, en veldig spesiell kvinne og kirurg. Jeg visste med en gang at hun skulle bli min kirurg! Hun anbefalte meg Motiva Implants, det mykeste og peneste implantatet jeg noensinne har sett i mitt liv! Hun valgte MOTIVA ERGONOMIX 450cc full projeksjon, og de er perfekte for å si det mildt.
Operasjonen min gikk så bra, jeg var på bena igjen etter bare 2 timer og hjemme etter bare 4 timer. Jeg hadde ikke dreneringsrør, bare en veldig tett sittende bandasje den første uken. De tre første dagene var tøffe, men takket være smertestillende middel var jeg i stand til å komme meg gjennom smertene. Restitusjonen min var ganske rask med tanke på at jeg ikke bare fikk en brystforstørrelse, men også en areola-reduksjon med rund blokkering, sammen med en omforming av det indre brystvevet mitt. Snittene tok nesten halvannen måned å leges og i dag er de nesten usynlige. Brystene mine er så myke, de føles som ekte bryster!
Jeg er veldig fornøyd med avgjørelsen min, kirurgen min er et geni og Motiva-implantater er de beste på markedet. Jeg er takknemlig overfor legen min og Motiva fordi nå er jeg så mye mer trygg og glad! Min opplevelse var kjempebra: minimale smerter, usynlige arr, supermyke og pene bryster...Jeg kunne ikke ha bedt om noe mer!
Nå føler jeg meg som en filmstjerne, jeg vet at jeg var vakker før, men nå kan ingenting stoppe meg.
Takk Motiva for at du ga meg selvtilliten til å være den heftigste versjonen av meg selv. ❤️
"
Disse vurderingene, uttalelsene og meningene som presenteres her, tilhører hvert enkelt individ. Resultatene kan variere og er kanskje ikke representative for andres erfaringer. Disse vurderingene er gitt frivillig og er ikke betalt, og personene har heller ikke mottatt gratis produkter, tjenester eller noen andre fordeler i bytte mot sine vurderinger. Påstandene er representative for den enkelte pasients erfaring, men de eksakte resultatene og erfaringene vil være unike og individuelle for hver enkelt pasient.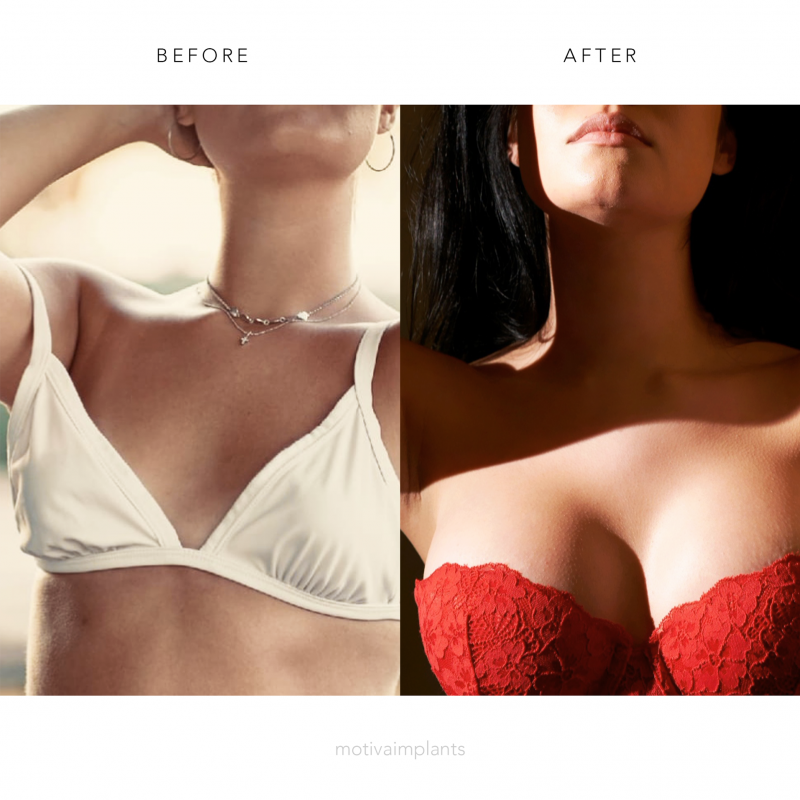 Er du også klar til å finne din perfekte match? Sjekk ut Motiva®-kirurger i nærheten av deg.
* Motiva Implants® er foreløpig ikke kommersielt tilgjengelige i USA og gjennomgår en klinisk undersøkelse i henhold til forskriftene til US Food and Drug Administration (FDA) for medisin-teknisk undersøkelsesutstyr.
Tags
Share this entry