Miljø
Vi respekterer vores planet, og alle dens indbyggere
Alle vores handlinger drives af vores respekt for vores planet, og alle dens indbyggere. Vi er overbeviste om, at for at være de bedste, er det nødvendigt at arbejde i harmoni med naturen. Alle vores produkter og handlinger har til hensigt ikke kun at påvirke kvinder helbred, men også miljøet.
Vi er CO2-neutrale
I maj 2019 blev vores hovedkontor og vores fremstillingsanlæg certificeret som værende CO2-neutrale.

Dette har vi opnået gennem en kombination af bestræbelser på at mindske vores CO2-aftryk, f.eks. gennem brug af et mere effektivt belysningssystem på vores faciliteter, solcellepaneler og energilagringssystemer til at drive vores produktion samt isbanker og et specielt klimaanlæg.

Ved at implementere disse foranstaltninger har vi kunnet mindske vores CO2-aftryk med omkring 16,9 %, hvilket svarer til cirka 244 flyvninger fra Paris til New York. Derudover har vi kompenseret for vores emissioner ved at bidrage til beskyttelsen af 6,8 hektarer skov i den nordlige del af Costa Rica.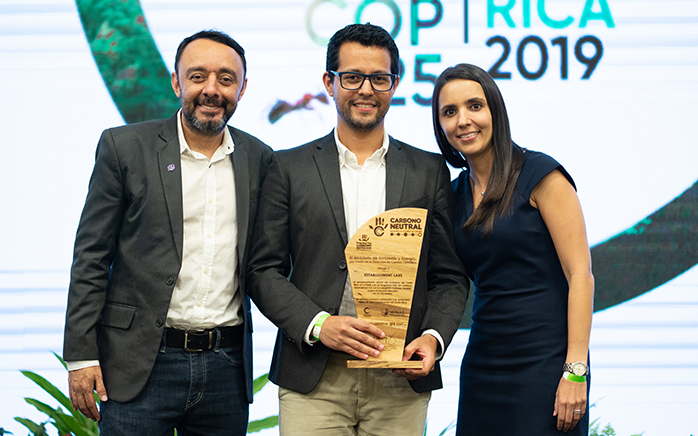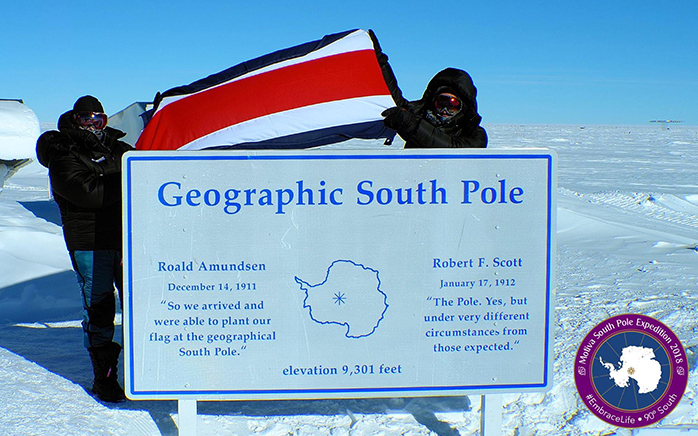 Embrace Life Expedition 2018 – Sydpolen
For at mindes 10-året for vores rejse og udforskning tager vi på en rejse for at omfavne livet og inspirere andre til at gøre det samme.
Sommetider, når man planlægger at rejse mod nord, ender det med, at man tager på opdagelse mod syd.
Udforske vores grænser
Hos Establishment Labs startede vi vores egen rejse mod det ukendte. Vi tog beslutninger for ti år siden, og disse beslutninger har ændret vores branche.
Vi har begivet os ud på en udforskningsrejse for at reflektere over, hvad vi skal gøre for at fortsætte denne forandring og nå vores mål omg at skabe helbred og velvære for kvinder i de næste 10 år.
Embrace Life handler om at inspirere mennesker til at yde deres bedste, at kende deres grænser, men stadig at søge dem.
Frivillige aktiviteter i miljøprojekter
Som en del af vores miljømål vil vi gerne dele vores engagement i bæredygtig udvikling og miljøet med vores medarbejdere. Derfor arrangerede vi den 6. september en frivillig aktivitet, hvor 22 frivillige fra vores hovedkontor sammen gjorde en indsats for at rense en strand for affald.
Vi samlede 350 kg affald op fra Guacalillo Beach i Puntarenas, Costa Rica, og aktiviteten blev udført i samarbejde med Volunteers Association for Service in Protected Areas (ASVO) og de lokale myndigheder.
Vores strategiske alliancer
I mange år har vi udviklet strategiske alliancer med fondene Magical Trees og Las Pumas, ikke bare for at påvirke Costa Ricas flora og fauna positivt, men også for at skabe opmærksomhed blandt vores interessenter om vigtigheden af at beskytte naturen og dyrelivet omkring os.
Vi har opretholdt et tæt samarbejde med begge disse organisationer og støtter dem med donationer for at styrke omfanget og effekten af deres initiativer. Som virksomhed mener vi, at vi har en forpligtelse til at respektere vores planet og alle dens indbyggere.
Denne overbevisning om at beskytte miljøet er i tråd med vores virksomheds værdier om at fremme kvinders helbred og velvære.
Kvinders selvstændiggørelse
Vi fremmer kvinders selvstændiggørelse
For at kunne påvirke verden positivt og føle sig virkeligt selvstændige, behøver vi blot at leve vores liv fuldt ud. Derfor opfordrer vi kvinder til at søge den bedste version af dem selv, uanset hvad det betyder for dem. Vi ønsker at inspirere dem til at dominere deres frygt og udleve deres passion dagligt.
Sådan fremmer vi kvinders selvstændiggørelse
Vi er ikke kun overbeviste om vigtigheden af kvinders helbred, men også deres velvære, hvilket er grunden til, at vi skaber rum til at fremme dette mål. Vi begyndte at holde vores Beauty Boss-sessioner for at opbygge et fællesskab mellem kvinder, som støtter hinanden i at opfylde deres professionelle og personlige mål.

Vi gennemførte de første Beauty Boss-sessioner ved vores medicinske og kommercielle begivenheder, og sidste år udvidede vi så deres omfang til også at omfatte vores egne kvindelige medarbejdere. På blot to år har vi arrangeret over 10 internationale Beauty Boss-sessioner på verdensplan.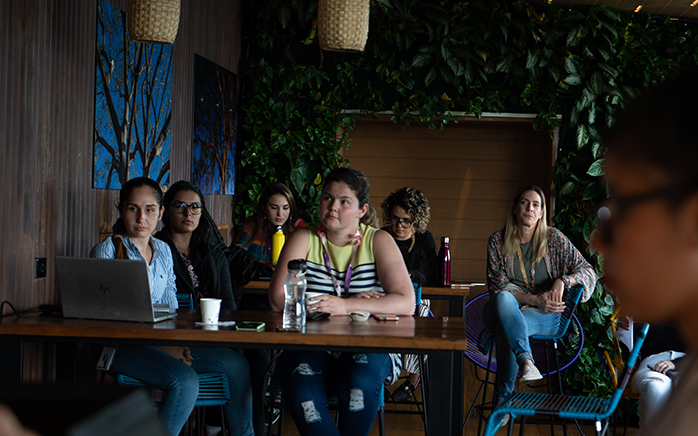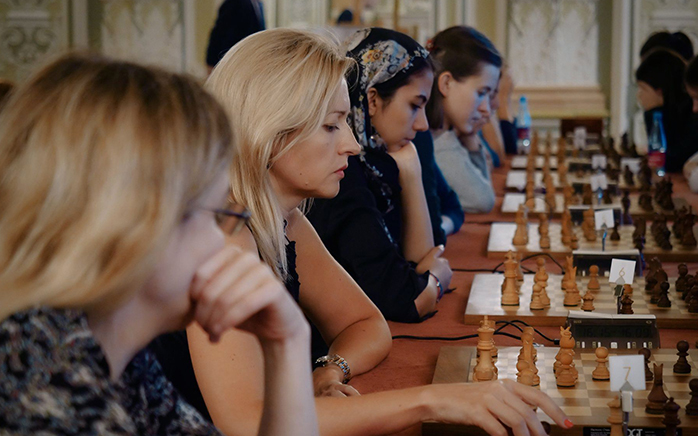 Motiva® Skakturnering
Hvert år samler vi nogle af verdens bedste skakspillere i fantastiske Sankt Petersborg til en turnering, som viser intellektuelle evner, fremragende strategi, mental og fysisk styrke, og desuden går det lynhurtigt.

Første stop på vores rejse var Sankt Petersborg i Rusland, hvor vi var værter for en skakturnering kun for kvinder. Begivenheden løb af stablen i det ikoniske Yusopov Palace lørdag d. 10. juni 2017 med Olga Styazhkina (WGM) og hendes yngste datter Anna Styazhkina (WIM) som værter.
Med en line-up af de toprangerede, professionelle kvindelige spillere i hurtigskak fra det internationale skakforbund (FIDE) afholdt vi den tredje udgave af turneringen #MotivaCheckmate.
Motiva Imagine Ladies Polo Cup 2017
I August 2017 havde vi æren af at sponsorere en unik 3-dages begivenhed: Den årlige turnering i damepolo til ære for historiens bedste kvindelige polospiller, nu afdøde Sunny Hale.
Sunny Hale (1968-2017​)
I 2017 hyldede Ladies Polo Cup "Sunset" Sunny Hale, den første kvindelige polospiller i Amerika og den første kvinde i historien, der vandt US Open Polo Championships. Sunny Hale gik bort i februar samme år, 48 år gammel, som følge af komplikationer i forbindelse med brystkræft. 
Vi kunne ikke komme i tanke om en bedre kvinde som symbol på denne kvindeturnering og på den sande betydning af Embrace Life. Hvilken bedre anledning end at sponsorere denne begivenhed for at hylde en af verdens største kvindelige polospillere!​
Vi vil huske Sunny Hale fremover, fordi hun hjalp med at nedbryde grænserne for kvinder, der ønskede at udleve deres passion ved at oprette kvindernes mesterskabsturnering. Hendes mor, Sue Sally Hale, spillede og polo i the 1950'erne, men hun var nødt til at klæde sig ud som mand for at kunne spille. ​
"Følg dine drømme, og tab dem aldrig af syne. Gør det. Der er en grund til, at du er her, og det frø, som du bærer på, er din største gave. Det er det, som gør dig unik, og som skal styre dig. Det er op til dig, at finde det, og give det liv. Du skal gøre det, mene det og nyde rejsen." – Sunny Hale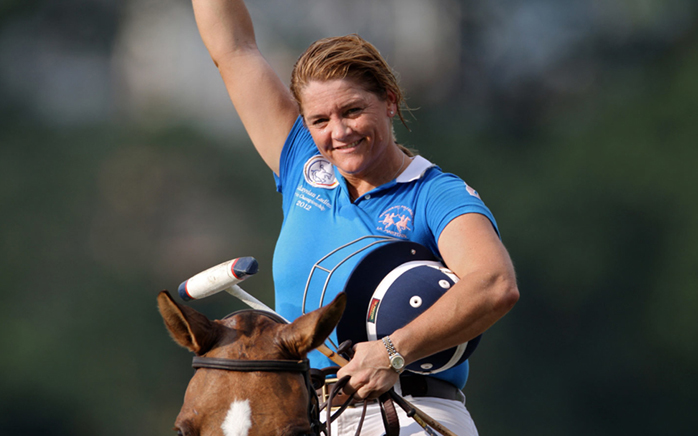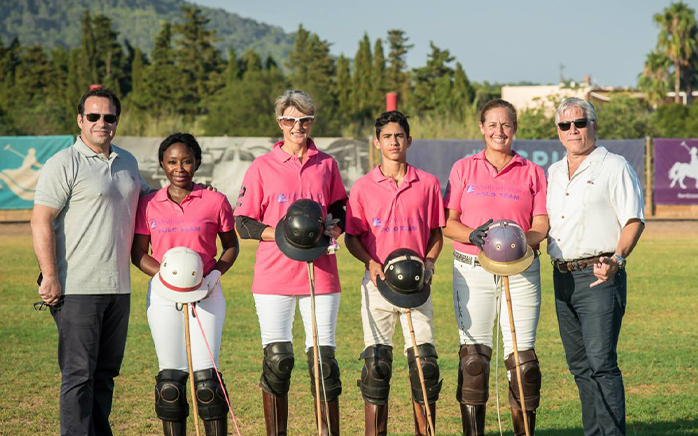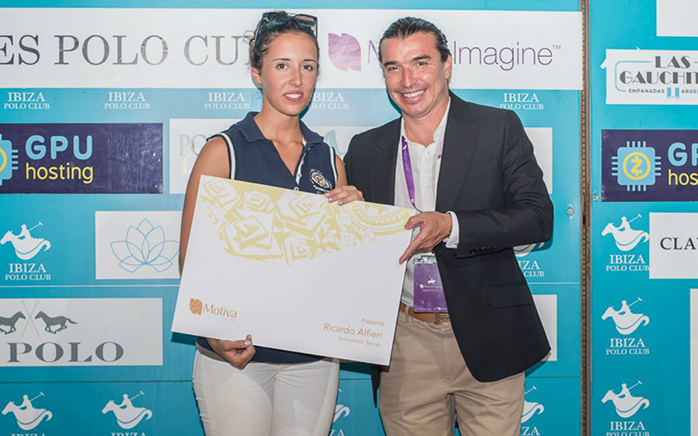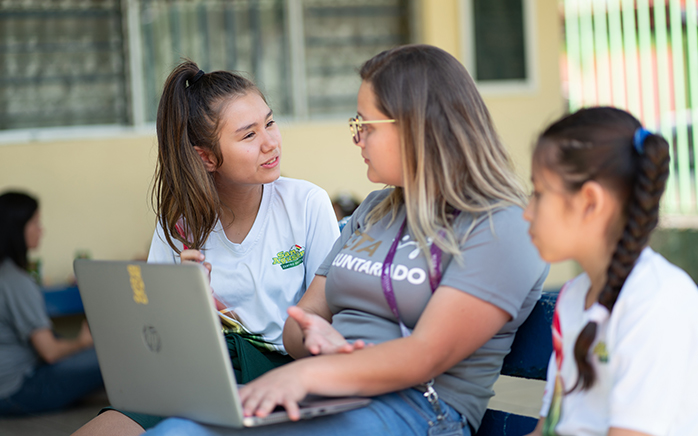 Sådan støtter vi piger i STEM
Vi er en virksomhed, som arbejder med kvinders helbred, og vi støtter kvinders selvstændiggørelse. Vi tror på de fremtidige generationer, og vi ønsker at samarbejde med dem, for at skabe en bedre fremtid for alle.
Derfor, og i samarbejde med fonden Inspiring Girls, holdt vi en aktivitet for frivillige i februar 2019 for at fremme karrierer for piger indenfor STEM (videnskab, teknologi, ingeniørvidenskab og matematik). Ni kvindelige frivillige deltog i aktiviteten som positive rollemodeller og tilbragte dagen sammen med 23 piger.
Kvinders helbred og velvære
Vi er en virksomhed, som arbejder med kvinders helbred.
Vi støtter kvinders helbred og deres velvære. Vi ønsker, at alle kvinder kan nyde livet og finde deres personlige balance mellem krop og sind. Dette er vores formål. Vi er altid ude efter nye måder at udnytte vores formål med at selvstændiggøre alle kvinder, så vi kollektivt kan blive de bedste versioner af os selv, og derved forbedre verden.
"Tackl brystkræft" Rugby Cup 2018
Vi gør opmærksom på den internationale brystkræftdag og fejrer samarbejdet mellem Motiva®, Costa Ricas Rugbyfederation og fonden Anna Gabriela Ross for at skabe bevidsthed om og fremme forebyggelse af denne sygdom og forsøge at give flere og flere kvinder adgang til kontroller, diagnosticering samt hurtige og effektive behandlinger. ​
Som udtryk for, at kvinders sundhed og sikkerhed er centrum for Motivas® idealer, skænkede vores administrerende direktør og grundlægger, Juan José Chacón-Quirós, en donation på 10 millioner colones til fonden Anna Gabriela Ross på vegne af Establishment Labs-familien.​​
Fonden Dra. Anna Gabriela Ross er en ikke-statslig, non-profit organisation, som arbejder med at forbedre den generelle kræftsituation i Costa Rica. ​
Fonden leder en samarbejdsproces, der skaber viden, hvilket styrker interesseforeninger, samfundet, familier og enkeltpersoner, der fremmer solidariske handlinger mod kræft.​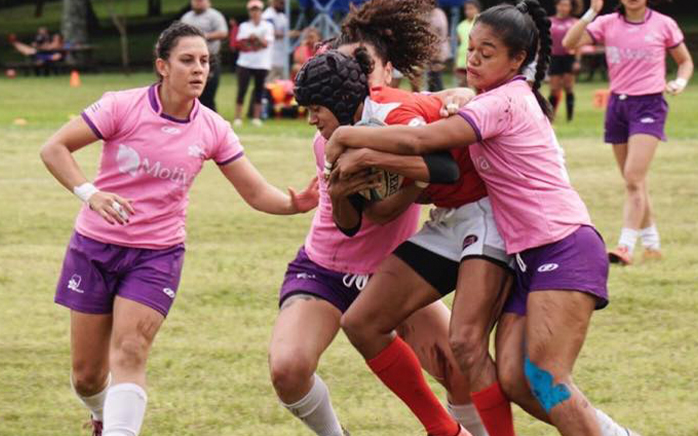 Brystkræft og initiativer til brystrekonstruktion
Vi ved, at alle forløb med brystkræft er forskellige, og vi støtter alle kvinder for at vise dem, at deres forløb er vigtigt for os – uanset om det er forebyggelse, opdagelse, kamp, overlevelse eller blot det at komme videre. Vi er deres partnere.
I tæt samarbejde med brystkræftoverlevere arrangerer vi aktiviteter som træplantning ved vores hovedkvarter som et symbol på erindring og fejring af den vækst og udvikling, der opstår efter kampen mod modgang.
Vi er også engagerede i kommunikation og kampagner på de sociale medier for at fremme nyttige sundhedstips og selvundersøgelse af bryster med henblik på forebyggelse og tidlig opdagelse af brystkræft, og vi har organiseret informative diskussioner og brystscreeninger for vores medarbejdere.
I oktober 2019 implementerede vi et initiativ til brystrekonstruktion, hvor vi støttede 35 kvinder i Brasilien, som overlevede brystkræft, og som havde brug for rekonstruerende kirurgi. For at give disse kvinder adgang til den pleje, de havde brug for, samarbejdede vi med kirurger, og donerede alle de nødvendige brystimplantater.
Vi er meget stolte af at være en del af initiativer, som har til formål at forbedre kvinders velvære og helbred. Dette er essensen af vores produkter og løsninger samt vores mission.